For many years I have been a tinkerer and maker of things electronic, electrical, and computer. Since their creation, Raspberry Pi single-board computers have been extremely popular due to their small size and low price. A few years ago, I received a SmartiPi-Touch case as a gift. It's a case on a stand that houses a Raspberry Pi along with a 7 inch touchscreen (pictured below).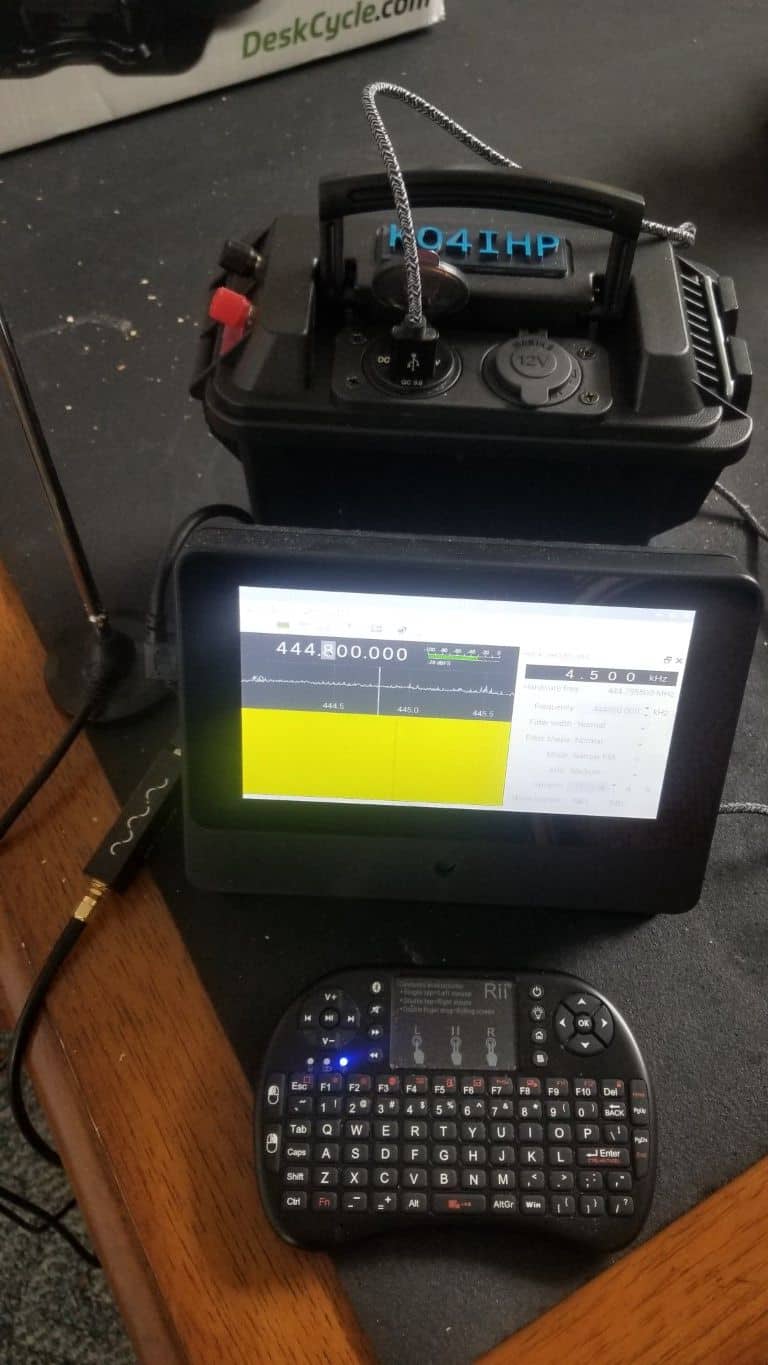 Using the Raspberry Pi OS (a Debian based variant of Linux), this powerful little computer, in this case with the touch screen makes for a great platform to build on. Basically, anything your imagination can conjure up, you can create. I've tinkered with it here and there but really haven't actually done a whole lot with it. Back in October 2020, I received my technician license and entered the world of ham radio. It did not take long until I learned what a "Go Box" was. From there my imagination took off and after trial and error, several iterations, and much frustration, I now have what I call the "Go Box Pi".
There were many hurdles I had to overcome, one of the biggest frequent issues with power. The Raspberry Pi and the touchscreen are powered both via a micro-USB connector. The Raspberry Pi 4 now uses a USB-C connector with a power supply that can provide more power. Inadequate power can cause corruption of the micro-sd card, causing it to crash and in some cases render it non-bootable.
There were other issues that I had to sort out, like getting the 4G LTE cellular modem working. Most of which was just a learning curve as I have never used one on a Raspberry Pi before. There was also the learning curve with SDR and using a few different SDR USB adapters along with several different software packages, figuring out how each worked and would benefit my needs. SDR receivers as I have learned can be very indispensable as well to a ham. GPS was rather easy – just a simple USB receiver that was plug and play along with a GPS app.
I settled on Foxtrot GPS (more on that later). Our well known and beloved CHIRP program used for programming many radios will also run on a Pi so it obviously had to be included. You just may need to program a radio in the field. Although every ham should know how to program their radios manually. 😊
Pictured below is the back of the first version showing the RTL-SDR attached to a small piece of aluminum along with an Argon Fan Hat attached to the 40-pin header on the Pi. Also the SixFab Hat for the Quectel 4G modem for cellular internet connection.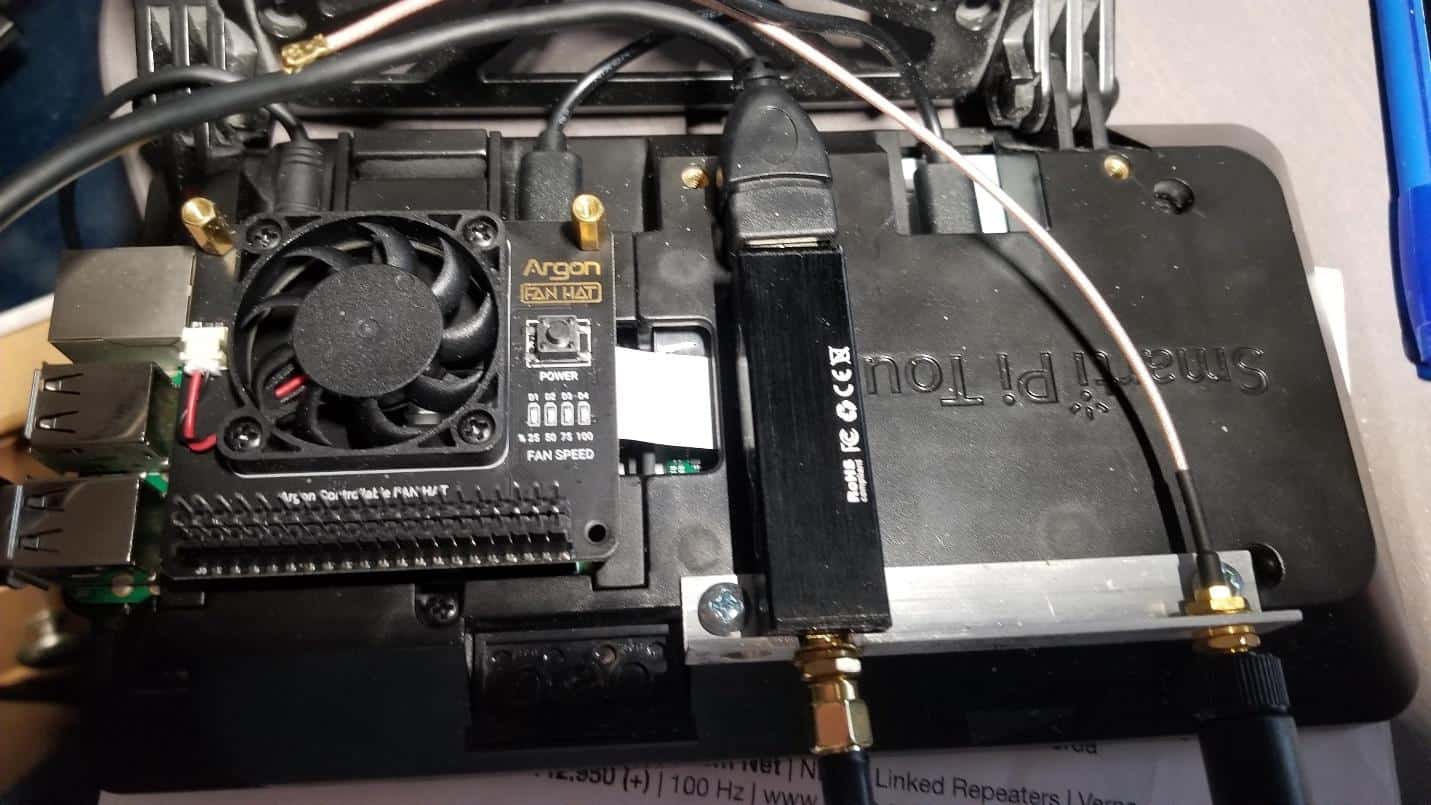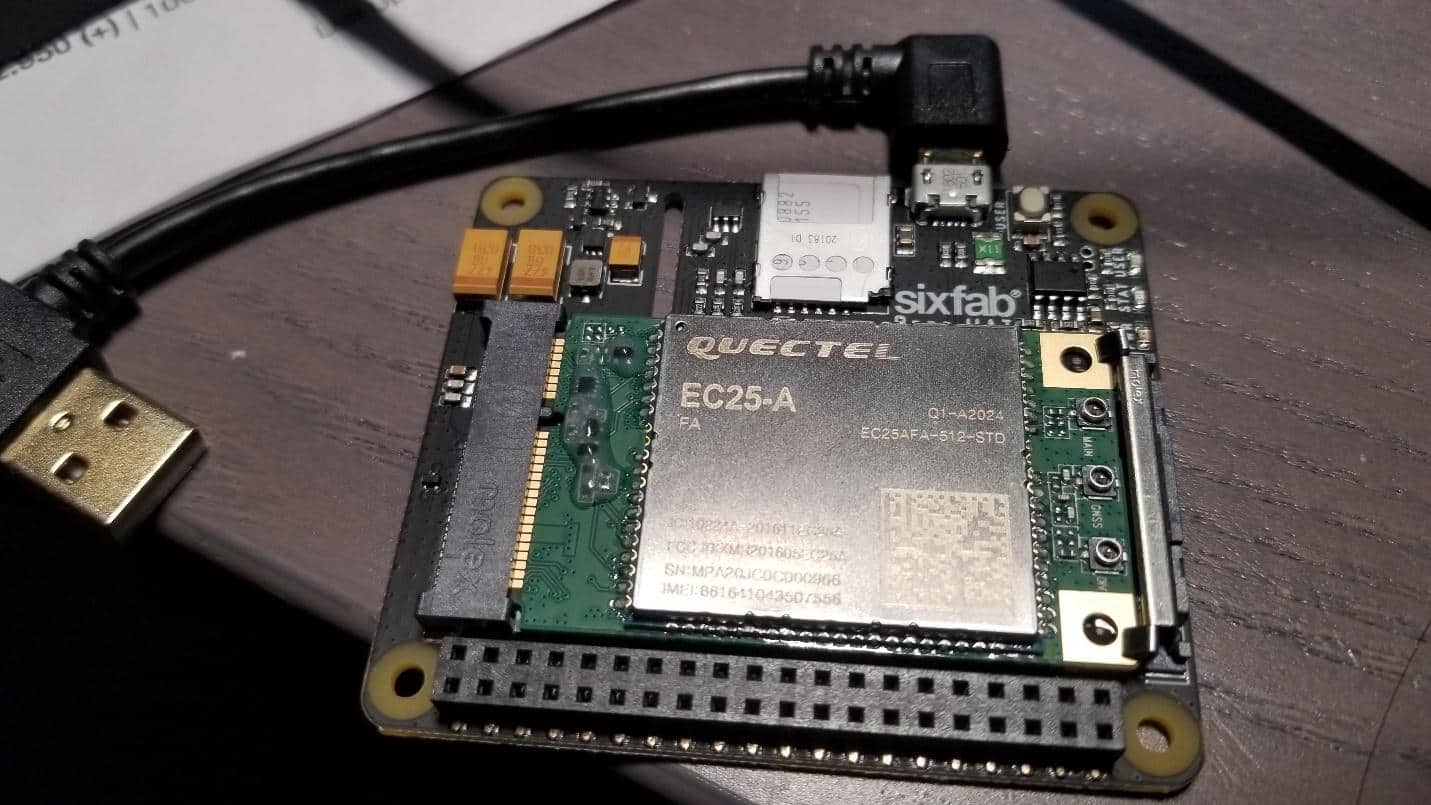 The newer version of the SmartiPi Touch Case has a cover that completely encloses everything whereas the previous version did not. I also opted to not have the SDR USB dongle attached directly to it. It can be plugged in as needed. Same with the GPS receiver.
The back of the first version…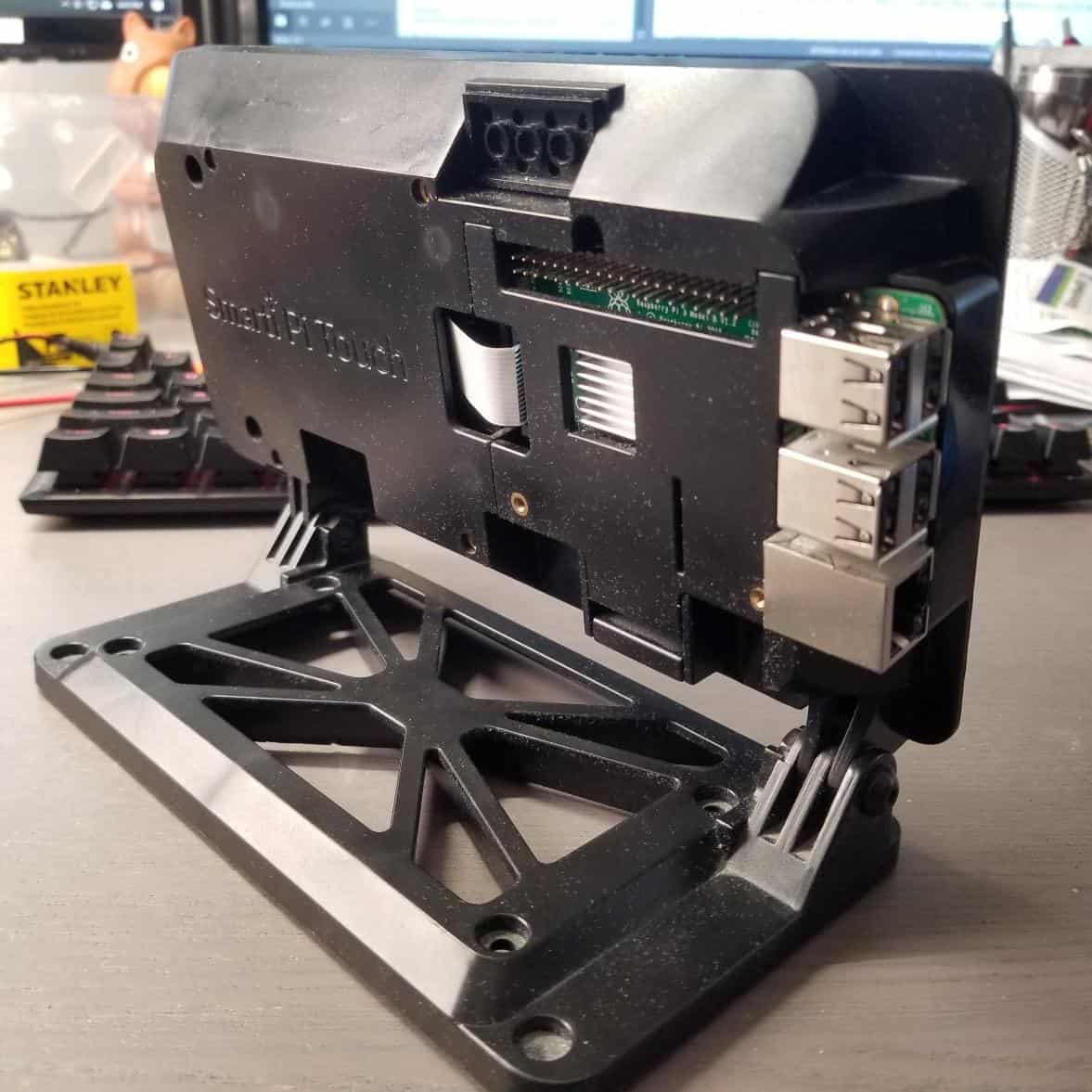 I chose to use the Foxtrot GPS program. It's easy to install from the Pi's software menu and works well with minimal effort. Just plug in the USB GPS receiver.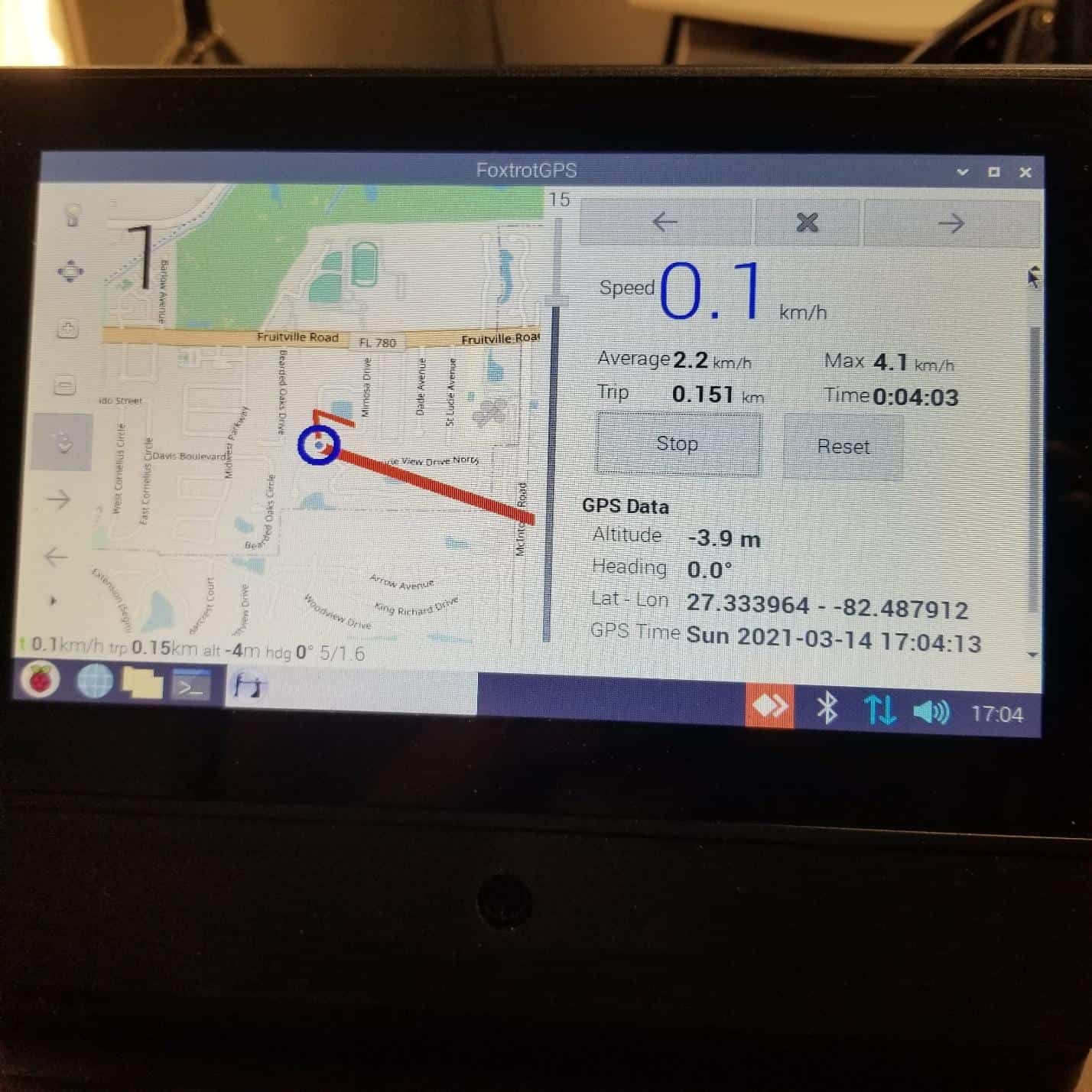 For the 4G LTE internet access I went with SixFab's Modem Hat that uses a Quectel EC-25 modem module. The service runs on T-Mobile's network and using a SIM by EmbeddedWorks. There is actually another long story that goes with the internet service but it is working well and gives you internet access anywhere T-Mobile has service. There is a PCB antenna adhered to the top of the inside of the case. Speeds vary but have been as fast as 10+Mbps.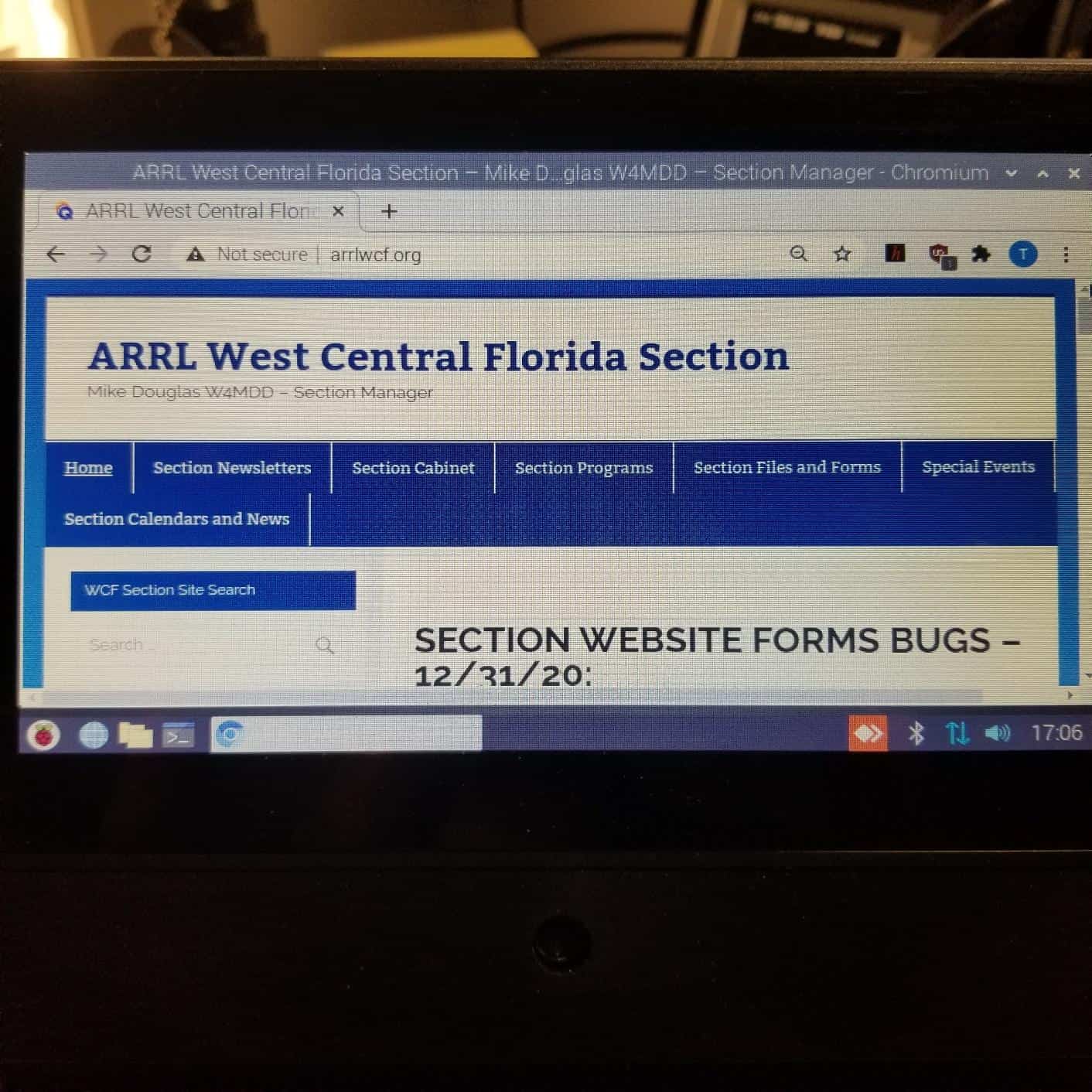 Here is another picture of the back of the original one with the SixFab Hat with the Quectel modem. It is powered by the Pi but communicates over USB.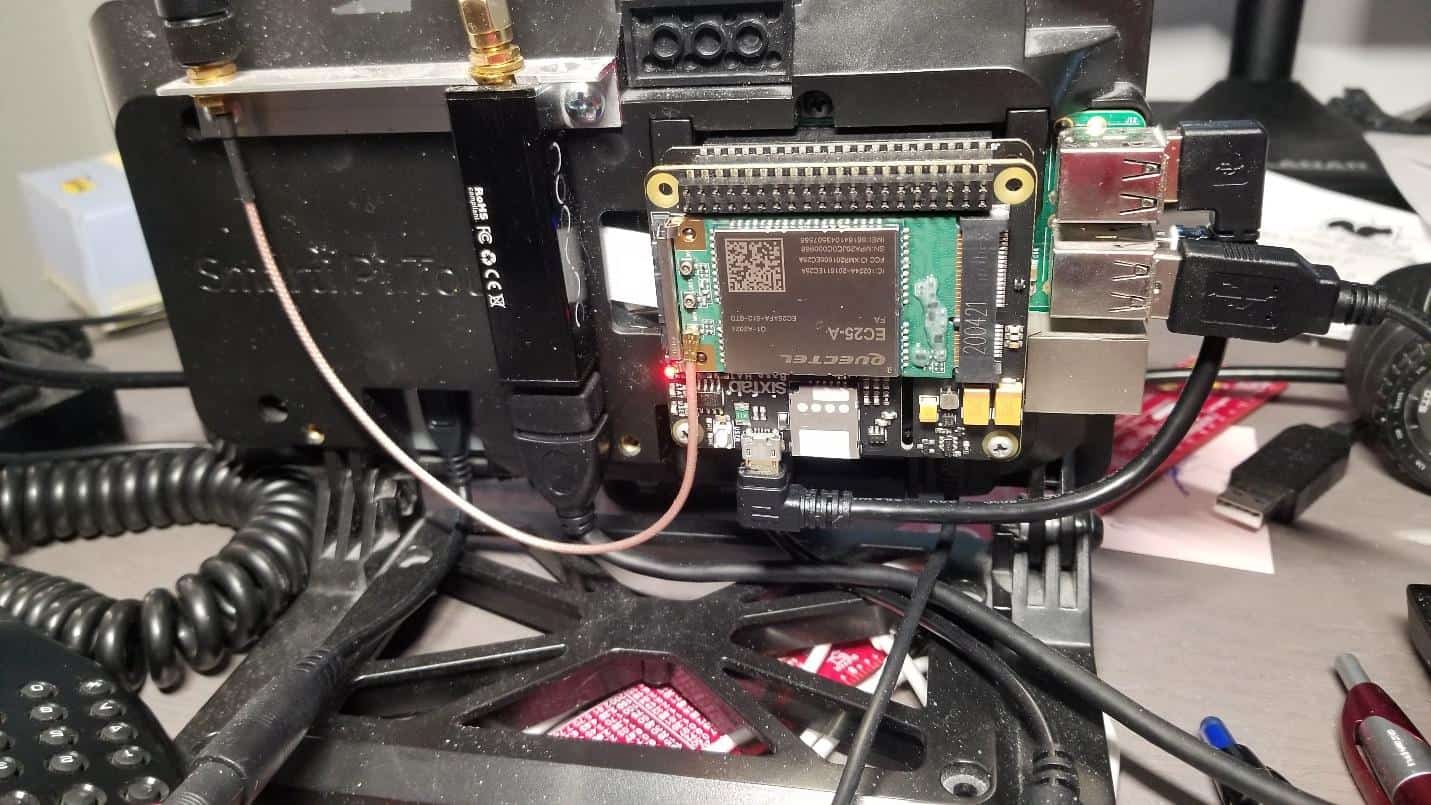 Here is a picture of a Raspberry Pi 4 (left) and the Pi 3B+ (right)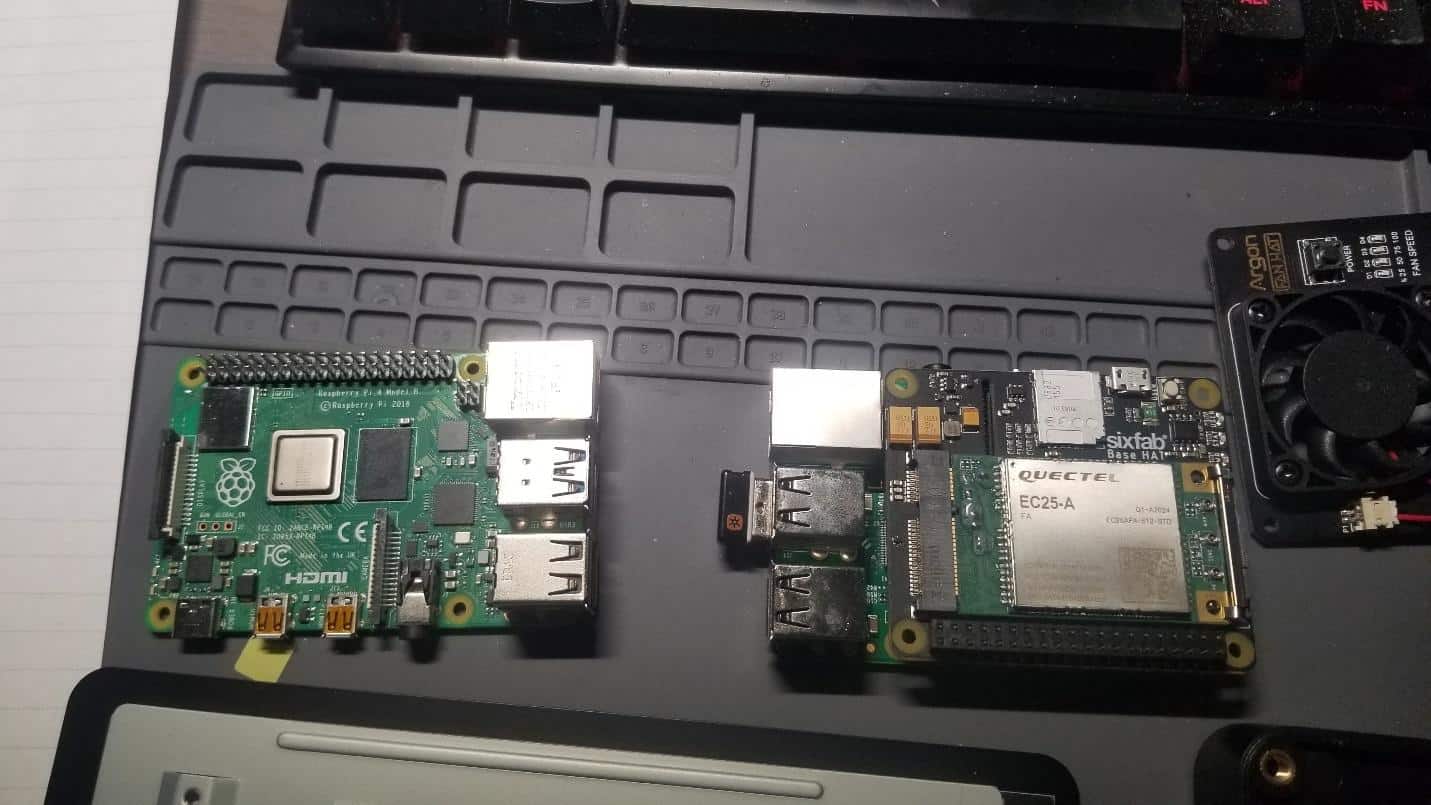 Two different programs round-out the SDR. Gqrx and CubicSDR. This is Gqrx in the photo. Both work quite well, packed with features and work with many USB SDR dongles.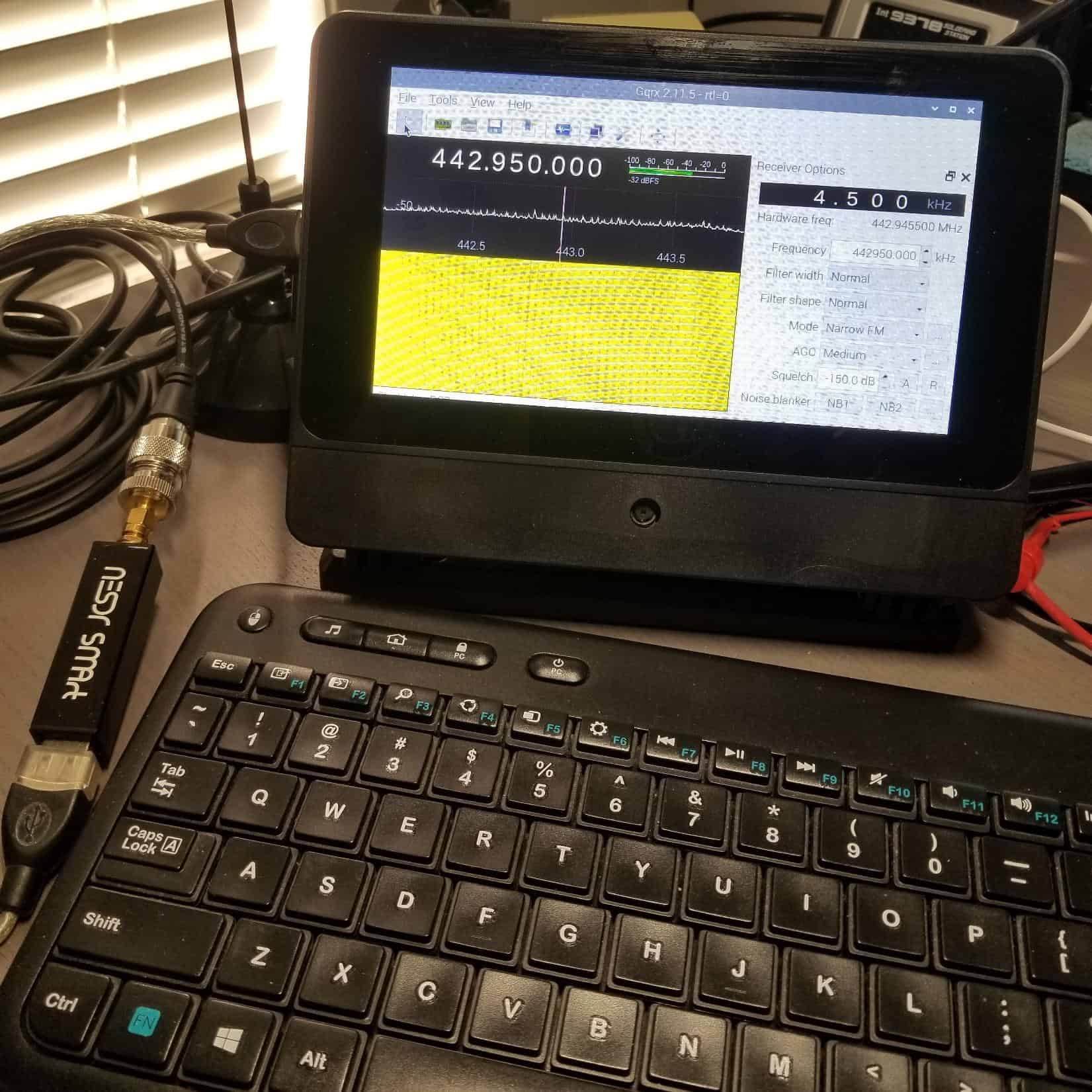 Here is the final product and using a Logitech wireless keyboard with touchpad. I am going to replace that with something similar but smaller to more easily fit in the go box. Also, the Pi has Bluetooth built-in that will free up 1 USB port taken up by the keyboard's receiver.
I have found the Gqrx SDR software to work extremely well on the Pi. Also the CubicSDR program works great too and both are jam-packed with features. Both seem to support just about any USB SDR.
There is also room in the case for a camera. I'm not sure what you might use it for as part of a Go Box kit but I happen to have the camera so I figured – why not?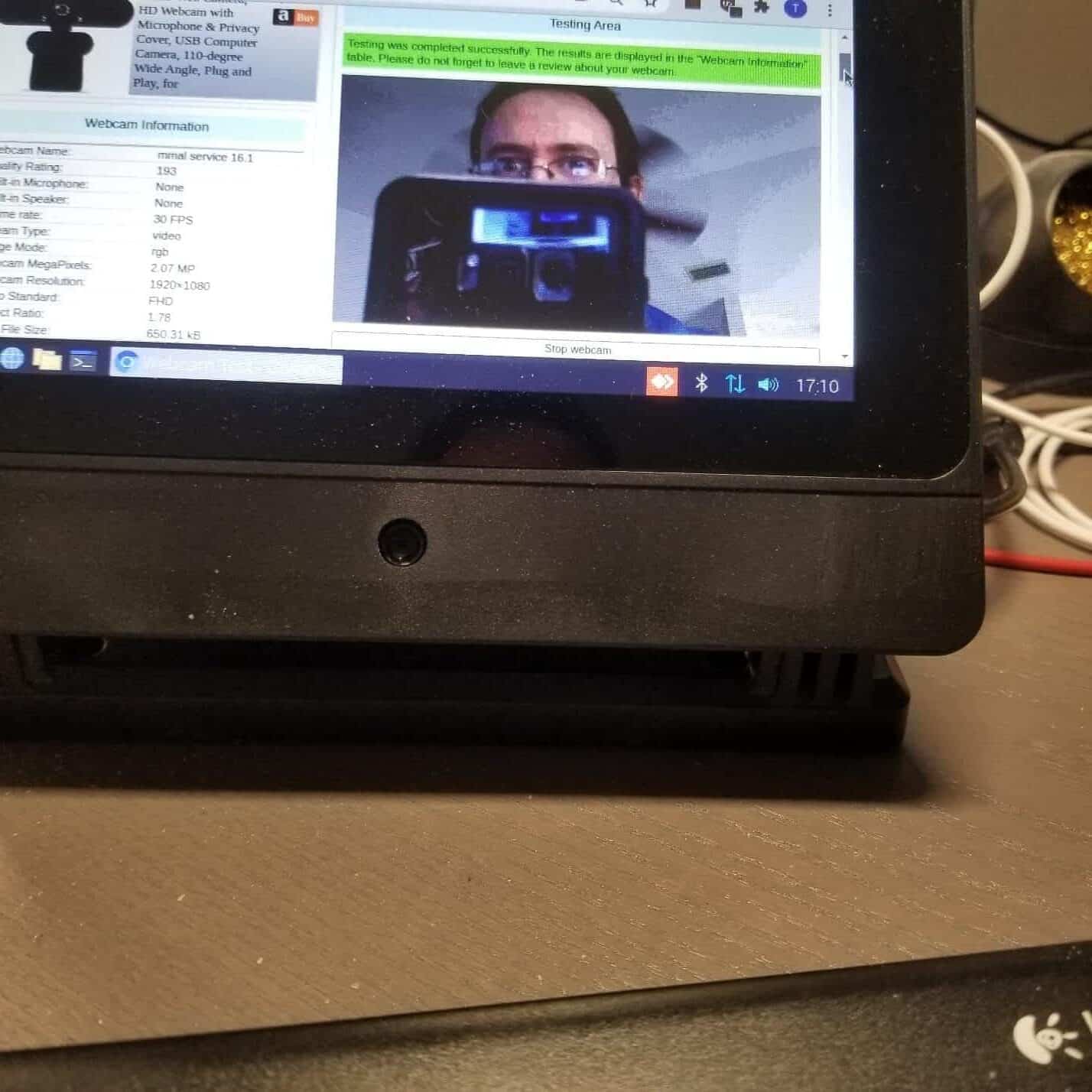 Just when I thought everything was good, I realized something that I think was a major design flaw with the newer case.
There's no way to access the audio jack on the Pi considering it is completely covered up. A simple fix was a 3.5mm panel mount jack mounted on the side and plugged into the jack on the Pi inside. Problem solved!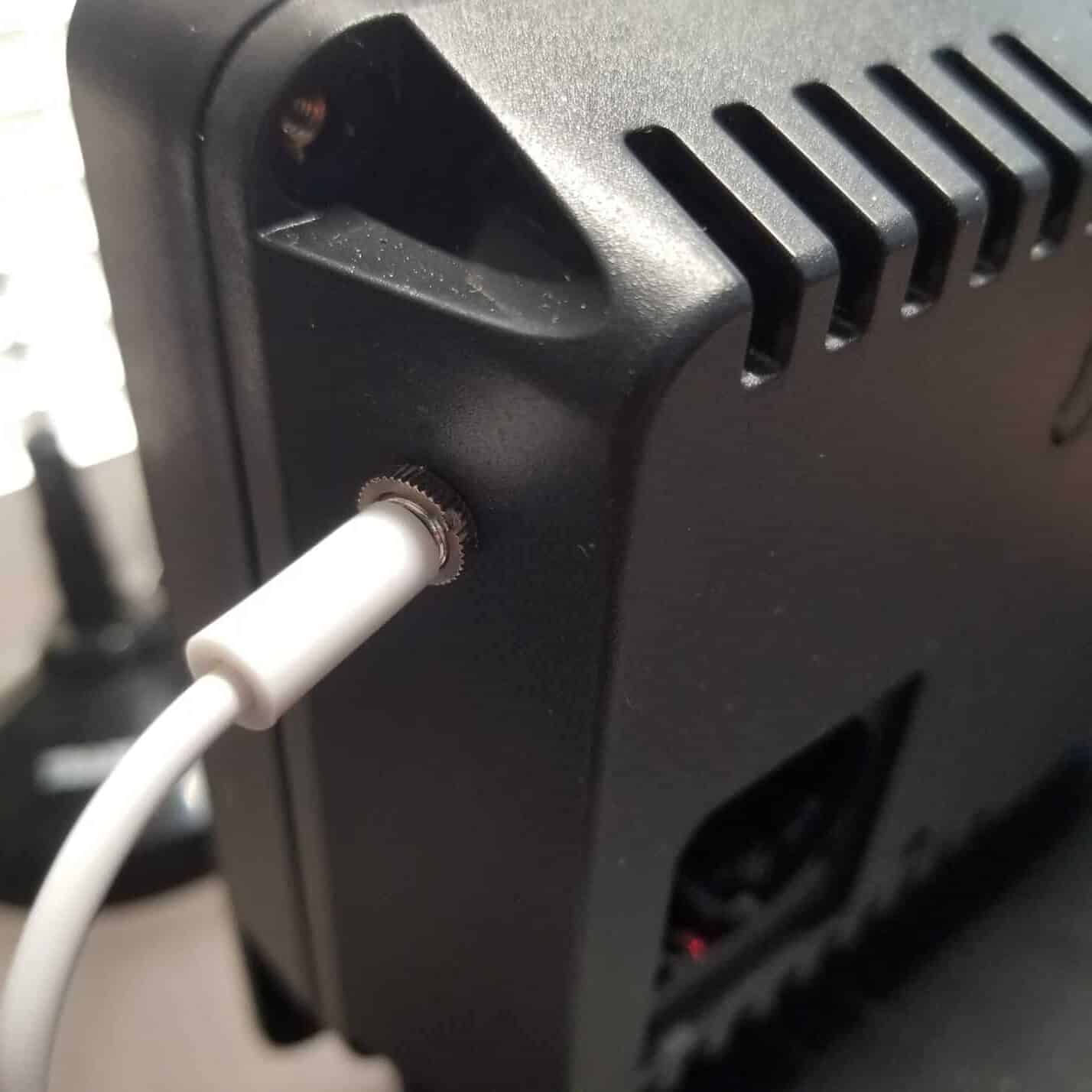 The cut out in the lower corder is for an optional cooling fan.
Power is provided by a USB-C power adapter wall-wart for now. Next thing to work on is the Go-Box's battery power that will power this as well as the Radio.
I still have to get a box too and settle on what radio to use and put it all together and make it "GO"! So the project continues on. As I make more progress I will share what I come up with.
Remember with this stuff your only limitation is your own imagination! 73 😊 KO4IHP